Moby Dick's sixteeenth series of "BIOHAZARD REAL SHOCK ACTION FIGURES" which, like many others, consisted of only one product.
Products
TYRANT (BIOHAZARD Ver.)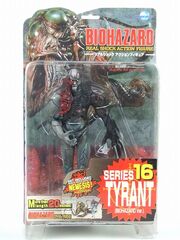 "TYRANT (BIOHAZARD Ver.)" is based on the Tyrant (T-002 Model) from the first Resident Evil. It is over 20 inches (51 cm) in height, and comes with parts for a Nemesis model which collectors were encouraged to complete.
Gallery
Sources
Moby Dick BIOHAZARD products
Figures
Ad blocker interference detected!
Wikia is a free-to-use site that makes money from advertising. We have a modified experience for viewers using ad blockers

Wikia is not accessible if you've made further modifications. Remove the custom ad blocker rule(s) and the page will load as expected.