Resident Evil 4 Exclusives is a special line of action figures produced by the National Entertainment Collectibles Association for their Resident Evil 4 line.
The Leon action figure is a special-edition model based on Leon S. Kennedy. In this variant, he wears his Raccoon City Police Department uniform, which appears as an unlockable costume in the game.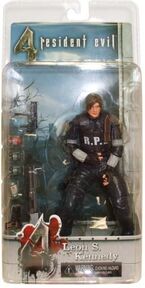 NECA Resident Evil products
---
ATTENTION! This article is considered to be a stub page. You can help the Resident Evil Wiki by expanding it.
---
Ad blocker interference detected!
Wikia is a free-to-use site that makes money from advertising. We have a modified experience for viewers using ad blockers

Wikia is not accessible if you've made further modifications. Remove the custom ad blocker rule(s) and the page will load as expected.