King's Foundation
(King's BIO HAZARD2 mythos)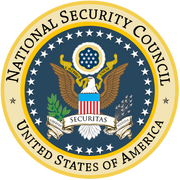 The National Security Council is a special committee chaired by the President. In 1998, that President was Clinton.
excerpts
↑ Excerpt from BIO HAZARD 2 VOL.11, page 4:
N.S.C 成員包括
副總統
國家安全顧問
國務卿
國防部長
參謀首長聯席會議

至於詳情由於過份複雜、 容後有機會再詳細介紹
references
Ad blocker interference detected!
Wikia is a free-to-use site that makes money from advertising. We have a modified experience for viewers using ad blockers

Wikia is not accessible if you've made further modifications. Remove the custom ad blocker rule(s) and the page will load as expected.