Prime universe
(Capcom's primary storyline)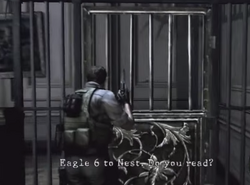 "Nest" is the code name used by the B.S.A.A.'s headquarters (HQ) in Resident Evil 5's extra escenario "Lost in Nightmares".
Nest was is leading during the mission, Chris used the code name "Eagle 6" and Jill "Eagle 5", both of them do not contac the HQ from the moment when they go upstairs for the second floor, the reasons are unknown.[1]
Notes
The Nest advice to the agents to "Expect the unexpected"
References
↑ RE5 extra escenario: Lost in Nightmares