Palisades Entertainment, LLC is a now-defunct toy company which made action figures for Resident Evil; Resident Evil 2; Resident Evil 3: Nemesis and Resident Evil CODE:Veronica. It closed down in 2006.Several figures and statues that include:
Series 1: (Released early 2001)
Leon Kennedy
Leon Kennedy (Wounded Variant)
Nemesis
Nemesis (Open Mouth – EB Games Exclusive)
Nosferatu
Soldier Zombie w/ Zombie Dog
Soldier Zombie w/ Zombie Dog (Camo – Wizard World Chicago 2001 Exclusive)
Series 2: (Released early 2002)
Alexia Ashford
Claire Redfield
Claire Redfield (Wounded Variant)
Mr. X
Zombie Cop w/ Licker
Zombie Cop w/ Licker (Blue Variant)
Series 3:
Chris Redfield
Chris Redfield (Cammo Pants Variant – One per case)
Tyrant
Wesker w/ Hunter (Glasses head on figure)
Wesker w/ Hunter (Evil eyes head on figure)
William G-4
Vinyl Statues:
12″ Jill Valentine (RE3 Outfit)
16″ Nemesis
Polystone Statues:
Claire Redfield (Production run of 1000)
William Birkin G2 (Production run of 400)
Polystone Busts: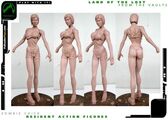 Nemesis (Production run of 3500)

Also there was a sculpted model of a female zombie (wearing tanktop) that was never released.
Companies

Developers
Third-Party developers
Game publishers
Book publishers
Supporting music
Merchandising
Ad blocker interference detected!
Wikia is a free-to-use site that makes money from advertising. We have a modified experience for viewers using ad blockers

Wikia is not accessible if you've made further modifications. Remove the custom ad blocker rule(s) and the page will load as expected.