"Police Chief" was the chief of Harvardville Airport's security police.
Biography
Edit
He assisted Ron Davis' two bodyguards in escorting and protecting the senator as he left the airport, and arrested a demonstrator wearing a zombie mask, later he tried to arrest Claire Redfield because she was involved with this story. He saw a second demonstrator and tried to arrest him, too, only to discover too late that this man was a real zombie.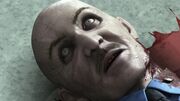 The officer had no time to react before the zombie swung around and bit him in the throat. He died instantly. Moments later, he returned to life as a zombie and joined the rest of the undead in attacking and killing innocent bystanders as well as Senator Davis' bodyguards. He is later shot in the head by Greg Glenn when he helps evacuate survivors from the airport.
Further notes
Edit
The patch on his uniform states he is a member of "HV Air Police."
Ad blocker interference detected!
Wikia is a free-to-use site that makes money from advertising. We have a modified experience for viewers using ad blockers

Wikia is not accessible if you've made further modifications. Remove the custom ad blocker rule(s) and the page will load as expected.