"It looks unique. Now I can access the power room."
— Item examination
Power Room Key is a key item in Resident Evil 2. It is a heavy-looking key with a black handle and a lightning strike across it.
Purpose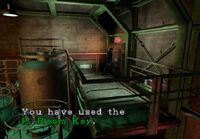 This key is used to gain access to the B2F Power Room in the Raccoon City Underground Laboratory.[1]
Location
This key can be found inside the P-4 Laboratory in Scenario B.
Bibliography
Sources
↑ Sumner; Shotten; Owen (ed.), Archives, p.191.