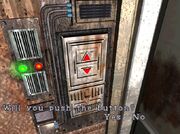 Another room of the single-framed background. Jill can move between the floors of the Disused Plant, using the elevator. Entering here doesn't mean that the elevator will start to move. It's necessary to activate the control panel.
Examines
| Location | Localization | Original Script |
| --- | --- | --- |
| Control panel | Will you push the button? Yes/No | |
Ad blocker interference detected!
Wikia is a free-to-use site that makes money from advertising. We have a modified experience for viewers using ad blockers

Wikia is not accessible if you've made further modifications. Remove the custom ad blocker rule(s) and the page will load as expected.