Minor universe
(Covers information within Pocket realities)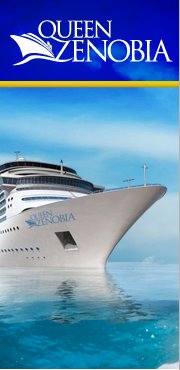 Queen Zenobia Cruise Lines is a non-canon ARG made for the advertisement of Resident Evil: Revelations. Its basis is the Queen Zenobia's owners who, in the ARG, is named "Queen Zenobia Cruise Lines".
In-game story
Edit
The company was founded in 1996 by at least two individuals, one of whom was Lodovico Boccaccio. In either early 2003 or 2004[1]
According to a press-release from the company, the Queen Zenobia was taken out of service later that year same year due to several deaths relating to an undisclosed virus, which spread thanks to unsanitary conditions.[2]
Hidden content
Edit
The about page for the official website contains a hidden clue. Highlighting the text, a message is revealed, saying "the password is ghost ship".
The gallery page, which shows pictures of some of the people who had taken the cruise to Trapani, Sicily, holds an egg. The bottom-left picture of a rather-unhappy man, when clicked upon, reveals his face in a zombie-esque manner on the viewing window. Rather than spell out his name, the photograph instead reads "557801BSAA0999".
About Us Page hidden code: NAN88744BSAA1011
Zombified Tourist: 557801BSAA0999
Reviews page Source Code: 009854BSAA7410
Sweepstakes Entry page: 584135BSAA7410
Press Release: 571891BSAA0001
Terragrigia Information video link: 990123BSAA1355
Ticket Error: 519043BSAA1786
Terragrigia Promo: 121770BSAA9987
Agaeon promo: 124555BSAA9980
Valentine's Day Promo: 345212BSAA1145
↑ According to an NTS special report, Il Veltro attacked Terragrigia in 2004; the press release, however, makes reference of it in 2003. Since neither date has been used by any other source, neither can be denounced as the "mistake"
Ad blocker interference detected!
Wikia is a free-to-use site that makes money from advertising. We have a modified experience for viewers using ad blockers

Wikia is not accessible if you've made further modifications. Remove the custom ad blocker rule(s) and the page will load as expected.