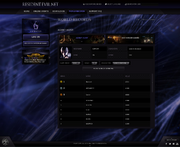 Resident Evil.net (abbreviated in all-caps as "RE.NET") is an interactive website used to collect and compare data taken from various Resident Evil gamers across the world. The service originally only supported Resident Evil 6, but has since been expanded to include Resident Evil Revelations, Resident Evil: Revelations 2, the HD remaster of Resident Evil, Resident Evil 7: Biohazard and the re-release of Resident Evil Revelations and Resident Evil: Revelations 2 on the PS4/Xbox One and Nintendo Switch. Only the PlayStation 3 and 4, Xbox 360 and Xbox One, Wii U and Nintendo Switch versions of these games can be linked to the website.
The URL of the website is www.residentevil.net.[1]
Description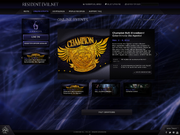 The features of the website are largely the same as on Halo Waypoint, a Microsoft website and Xbox app tied to the Halo series of video games. Like Waypoint, residentevil.net features challenges that need to be undertaken to unlock rewards - an example for Resident Evil 6 would be "kill 10,000 zombies". When these tasks have been completed, rewards will be redeemed in the form of tickets or RE Points which can be used to purchase extra gameplay content, such as alternate costumes.
Unique to Resident Evil.net is the "Champion Belt" feature - the first person to complete the challenge will be named the "winner" and their profile will show the belt-reward as proof of their accomplishment.
Sources
↑ Brelston (14 August 2012). Announcing Resident Evil.net, a free online service for RE6. Retrieved on 2012-08-14.