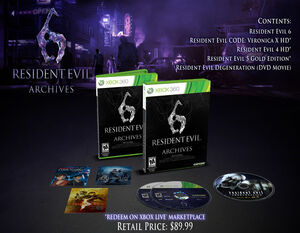 RESIDENT EVIL 6 ARCHIVES is a collector's edition version of Resident Evil 6 for the Xbox 360. Resident Evil 6 is the only physical disk in the set - the rest are digital in nature. This version of the game came out on October 2, 2012 in the United States, and will be priced at $89.99.[1] Its content are as follows:
Further notes
Edit
This set, is the occidental version of the Biohazard 15th Anniversary Collection that will be released in Japan shortly, except that it will not have Biohazard 6.
Ad blocker interference detected!
Wikia is a free-to-use site that makes money from advertising. We have a modified experience for viewers using ad blockers

Wikia is not accessible if you've made further modifications. Remove the custom ad blocker rule(s) and the page will load as expected.