RE Engine is the engine that empowers Resident Evil 7: Biohazard and has been created specifically for it.
Unlike its predecessor, the MT Framework, the RE Engine includes a variety of new graphical and rendering techniques such as Subsurface Scatters (a shader method used to produce highly realistic human skin), Dynamic shadows, FXAA + TAA, Shadow cache, moreover, rendering techniques include the ability to output 4K Resolution, HDR, a VR specific mode, among others.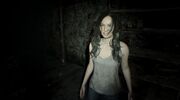 On the other hand, the RE Engine enabled the developers to have Photorealistic rendering and realistic shading.
The engine itself differs from its predecessor in terms of file formats and the whole game data is packed into a .PAK archive, making modifications a bit more less comfortable.
---
ATTENTION! This article is considered to be a stub page. You can help the Resident Evil Wiki by expanding it.
---
Ad blocker interference detected!
Wikia is a free-to-use site that makes money from advertising. We have a modified experience for viewers using ad blockers

Wikia is not accessible if you've made further modifications. Remove the custom ad blocker rule(s) and the page will load as expected.