Ad blocker interference detected!
Wikia is a free-to-use site that makes money from advertising. We have a modified experience for viewers using ad blockers

Wikia is not accessible if you've made further modifications. Remove the custom ad blocker rule(s) and the page will load as expected.
Wildstorm universe
(Covers information from the D.C. comics)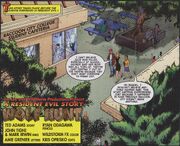 Raccoon City College was an educational institute in Raccoon City. It had a cafeteria building as well as a library, and the university board was criticised by one student for not spending the students' tuition fees on practical faculties, such as outside lighting.
History
In mid-1998, it was the location of two killings (one of "Leslie", the other of "Michelle Allen") by a mysterious assailant known for mutilating his victims. Jill Valentine killed the assailant while posing as a university student.[1]
Sources
↑ Resident Evil: The Official Comic Magazine Issue #3, Wolf Hunt