Ad blocker interference detected!
Wikia is a free-to-use site that makes money from advertising. We have a modified experience for viewers using ad blockers

Wikia is not accessible if you've made further modifications. Remove the custom ad blocker rule(s) and the page will load as expected.
ORC backstory
(Operation Raccoon City's backstory)
| | |
| --- | --- |
| | This article is an 'Orphan' |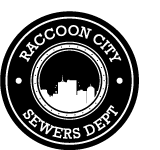 The Raccoon City Sewers Department was the Raccoon City Hall office dedicated to the maintenance of the sewer system under the facility. Their official website displayed a rough map of their sewers. Strangely, the department admitted that their own map may be incorrect. The areas used by Umbrella don't appear to exist, while the Incineration Disposal Plant P-12A was labelled as a 'waste disposal' plant. Whether the department was run secretly by Umbrella to hide their underground plants or was fed misinformation is left ambiguous.
Map
Sewer-map.pdf‎(file size: 145 KB, MIME type: application/pdf)