ORC backstory
(Operation Raccoon City's backstory)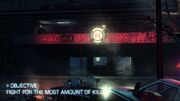 Raccoon General Hospital,[note 1] otherwise known as Raccoon Hospital was the primary healthcare building in Raccoon City.
History
The viral outbreak took the hospital by surprise. Patients and their doctors were attacked and killed during routine check-ups, and a retirement party was set up.
Architecture
Gallery
Sources
notes
↑ While the front sign says "Raccoon Hospital", a pamphlet in the game says "Raccoon General Hospital".
references