Mainstream universe
(Capcom's primary storyline)
| | |
| --- | --- |
| | This article's name is tentative and does not represent any official name for its subject. As such, it is liable to change. |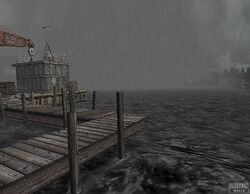 This pier was the location of a scenario of Resident Evil Outbreak which ultimately failed to make it into either of the released versions. Presumably, survivors would attempt to escape the city through the river in Raccoon City. Clint may have some connections to it due to him being a UBCS member that has a life jacket.
Sources and Gallery
Edit
https://www.youtube.com/watch?v=sQHXfFTOOp4
Ad blocker interference detected!
Wikia is a free-to-use site that makes money from advertising. We have a modified experience for viewers using ad blockers

Wikia is not accessible if you've made further modifications. Remove the custom ad blocker rule(s) and the page will load as expected.