Prime universe
(Capcom's primary storyline)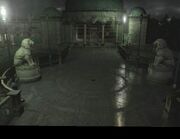 Raccoon Zoo was a tourist attraction in the Midwestern community of Raccoon City, not far from the center of the city.[1] It was located on the western side of the Circular River and was near a tram station that provided the zoo with tourists on weekends. In the event of disasters, Raccoon Zoo was listed by the local government as an emergency shelter.[2][excerpt 1]
The zoo was opened as early as 1978,[3] with an annual parade involving elaborately-dressed elephants conducted until 1983.[4] At Christmas time each year, they would hold a parade of trained animals. Oscar, who was the zoo's bull elephant and the star took lead of the parade while dressed in holiday garb; this had been discontinued by the '90s.[4] The zoo's Deputy Chairman, Elliot Martin, had acquired an orchid exhibit for display at the botanical garden. Their transport in and out of the US being restricted by the Washington Convention, it was left unknown as to how Martin managed to acquire such an attraction.[5]
"Max", the resident lion, was joined by three lionesses on loan to the zoo to assist in the lion-breeding program, with the three scheduled to be returned to their respective zoos in October.[6]
During the Raccoon City Destruction Incident of September 1998, the zoo was closed for business and used as a site of congregation for civilian airlifts out of the city, per city policy of using it as a shelter. Unexpectedly, the t-Virus had infected the zoo animals though their drinking water and they escaped from their enclosures. By the end of the first night the population had lowered to almost zero with the exception of a few trapped zoo employees and wandering refugees.
Attractions
Edit
From the main entrance to the north, visitors could reach the Zebra Zone,[note 1] which contained African animals such as zebra; gazelle and giraffe.[7] To the east of the entrance was a small lake to house at least two alligators.
After this was the "Jungle Dome", a dome-shaped structure with an artificially-modulated temperature and humidity. Here, rare, tropical plants and animals were able to survive, numbering 700 individual species.[8][excerpt 2] A species of tropical wasp and a group of Greater Indian Hornbills also lived within the dome.
To east of the Jungle Dome and at the north-east corner of the zoo was the "Elephant Show", a scale model of the Colosseum capable of seating 600. The show was where Oscar the elephant, an older zoo attraction, could be paraded. Familiar with the old parades of the 1980s, Oscar would react just the same to circus music recordings for the entertainment of tourists.[9][excerpt 3]
On the south side of the zoo was the "Animal Show", a stage set up for children to watch animal performances, featuring bear cubs; monkeys and dogs.[10][excerpt 4]
Other animal attractions included lions; hyena; gorillas; tigers and black rhinoceroses.[7]
Employees
Edit
notes
↑

This area is not explored, but it can be seen on zoo maps.
excerpts
references