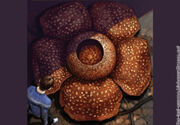 Rafflesia is a genus of parasitic flowering plants native to the rain forests of Southeast Asia. A Rafflesia was bought by the Raccoon Zoo, a popular tourist destination in Raccoon City.[1] Until it is destroyed, the player cannot access the console on the other side of it. The Flying Bug also surround it and will become angry when it is destroyed.
List of Creatures by Game
Ad blocker interference detected!
Wikia is a free-to-use site that makes money from advertising. We have a modified experience for viewers using ad blockers

Wikia is not accessible if you've made further modifications. Remove the custom ad blocker rule(s) and the page will load as expected.