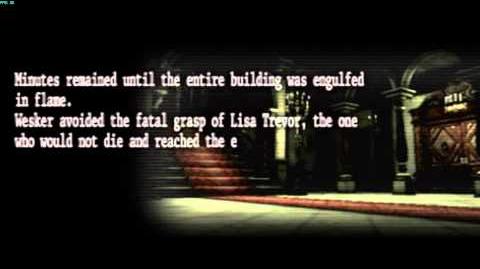 The Rebirth 2 opening is the opening cutscene to the second half of the "Rebirth" Act of Resident Evil: The Umbrella Chronicles.
Transcript
Edit
Minutes remained until the entire building was engulfed in flame.
Wesker avoided the fatal grasp of Lisa Trevor, the one who would not die and reached the entrance.
He was only a few feet away from safely escaping the explosion.
The original Japanese transcript for this file is not yet present. Please add it.
Ad blocker interference detected!
Wikia is a free-to-use site that makes money from advertising. We have a modified experience for viewers using ad blockers

Wikia is not accessible if you've made further modifications. Remove the custom ad blocker rule(s) and the page will load as expected.