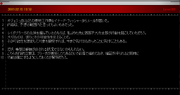 Report 090216 was filed on the BSAA Remote Desktop on 1 February 2009.
Transcript
---
Notice: This article or section is devoted to translating foreign text into English. Transcription has been completed; translation is unfinished.
---
Mail has arrived from field operative Reynard Fisher in Kijuju Autonomous Region.
内容は、予想の範囲内と言ってもよいものだった。

レイがプラーガの兆候を掴んでいたのならば、私よりも先に西アフリカ支部が行動を起こしていただろう。
大切なのは、彼らにその可能性を伝えることだ。
その可能性を想定して対象を観察すれば、今まで気付かなかったことに気付くこともある。

だが、事態は静観が許される状況ではないかもしれない。こさらの作戦立案は、プラーガが蔓延しつつあるという前提で進めておき、確証が得られると同時に行動が起こせるようにしておくのが賢明だろう。
キジュジュ自治区の現地工作員レイナード・フィッシャーからメールが届いた。
内容は、予想の範囲内と言ってもよいものだった。

レイがプラーガの兆候を掴んでいたのならば、私よりも先に西アフリカ支部が行動を起こしていただろう。
大切なのは、彼らにその可能性を伝えることだ。
その可能性を想定して対象を観察すれば、今まで気付かなかったことに気付くこともある。

だが、事態は静観が許される状況ではないかもしれない。こさらの作戦立案は、プラーガが蔓延しつつあるという前提で進めておき、確証が得られると同時に行動が起こせるようにしておくのが賢明だろう。
Ad blocker interference detected!
Wikia is a free-to-use site that makes money from advertising. We have a modified experience for viewers using ad blockers

Wikia is not accessible if you've made further modifications. Remove the custom ad blocker rule(s) and the page will load as expected.