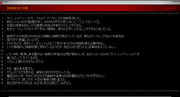 Report 090223 was filed to the BSAA Remote Desktop on 23 February 2009.
Transcript
---
Notice: This article or section is devoted to translating foreign text into English. Transcription has not been completed; translation is unfinished.
---
Chris Redfield, I have passed the information on Ricardo Irving.
クリス・レッドフィールドに、 リカルド・アーヴィングの情報を渡した。
彼はレベル10の行動権を持つ、 BSAAの中でも数少ないエーヅェントの一人だ。
支部の垣根をまたいでの捜査も独自の判断で行うことができる。
他のエーヅェントでは入手できない情報も、 彼ならば手に入れることができると信じている。


西部アフリカ支部のAMADIとも頓繁に情報交換を行っているが、 彼らはアーヴィングをB.O.W.密売の
現行犯で逮捕したいようだ。
そのためには、 彼がいつ、 キジュジュのどこで取引を行うかの情報を得る必要がある。
レイも積極的に情報収集に努めているようだが、 残念 ながら思うように成果はあがっていない。
 
こういう時、 現場に身を置かない情報分析官の立場が恨めしいが、 あのミスターBSAA"クリス・レッドフィールド"が
事にあたってくれているのだ。
これ以上望むものはないだろう。

だが、 事は急を要する。
アダムのブログを見れば、 事態の深刻さが伝わってくる。
確証はないが、 やはりこれはただの暴動や過激な民族運動などというものではない。
アーヴィング、 彼こそが、 今回の事態の鍵と言える。
彼の目的が分かれば、 おのずと答えは見えてくるだろう。
Ad blocker interference detected!
Wikia is a free-to-use site that makes money from advertising. We have a modified experience for viewers using ad blockers

Wikia is not accessible if you've made further modifications. Remove the custom ad blocker rule(s) and the page will load as expected.