Ad blocker interference detected!
Wikia is a free-to-use site that makes money from advertising. We have a modified experience for viewers using ad blockers

Wikia is not accessible if you've made further modifications. Remove the custom ad blocker rule(s) and the page will load as expected.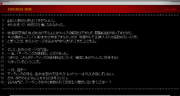 Report 090224 was filed to the BSAA Remote Desktop on 24 February 2009.
Transcript
2009.02.24 18:03 Level.06

謎の人物から送られてきたウィルス。
それのせいで、昨日は仕事にならなかった。

技術研究局のMJのおかげでなんとかウィルスの駆除はできたが、問題は誰が送ってきたかだ。
MJの腕をもってしても発信元は特定できなかったが、外部から不正侵入された痕跡はないそうだ。
と言うことは、あのメッセージはBSAA内部から送られてきたということになる。

そして、あのメッセージの内容。
一言、「アーヴィングの情報だ。」とだけあった。
つまりは、こちらがアーヴィングの情報を欲していて、確実にあのウィルスに感染すると
分かっていたということだ。

一体、誰が…
アーヴィングの件は、北米支部内ではクリス・レッドフィールドにしか話していない。
だが、彼がそのようなことをするとは考えにくい。
BSAA内で、アーヴィングの件に触れられては困る人間がいると言うことか…?
2009.02.24 18:03 Level.06

謎の人物から送られてきたウィルス。
それのせいで、昨日は仕事にならなかった。

技術研究局のMJのおかげでなんとかウィルスの駆除はできたが、問題は誰が送ってきたかだ。
MJの腕をもってしても発信元は特定できなかったが、外部から不正侵入された痕跡はないそうだ。
と言うことは、あのメッセージはBSAA内部から送られてきたということになる。

そして、あのメッセージの内容。
一言、「アーヴィングの情報だ。」とだけあった。
つまりは、こちらがアーヴィングの情報を欲していて、確実にあのウィルスに感染すると
分かっていたということだ。

一体、誰が…
アーヴィングの件は、北米支部内ではクリス・レッドフィールドにしか話していない。
だが、彼がそのようなことをするとは考えにくい。
BSAA内で、アーヴィングの件に触れられては困る人間がいると言うことか…?