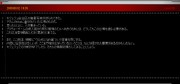 Report 090302 was filed to the BSAA Remote Desktop on 2 March 2009.
Transcript
---
Notice: This article or section is devoted to translating foreign text into English. Transcription has been completed; translation is unfinished.
---
キジュジュ自治区の衛星写真が送られてきた。
アダムのblogに書かれていた広場のものだ。
思った以上に、 人が集まっている。
ブラヴォーチームの侵入路から取引現場のビルへ向かうためには、 どうしてもこの広場を通る必要がある。
これは注意を喚起しておく要ありと言える。

また、 ここ数日、 頻繁に"ウロボロス計画"という言葉を耳にする。
内容に信憑性は乏しいが、 ここまで噂が広がっているということは、 なにか隠された事実があるのかもしれない。
キジュジュでの作戦が終了したら、 そちらの情報収集もしてみることにしよう。
Satellite photos of the Kijuju Autonomous Region have been sent.
It's the square that was written on Adam's blog.
As I expected, people have gathered.