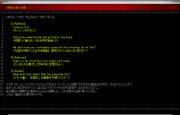 Report 090308 was filed in the BSAA Remote Desktop on 8 March 2009.
Transcript
---
Notice: This article or section is devoted to translating foreign text into English. Transcription has been completed; translation is unfinished.
---
とあるルートから、気になるデータを入手した。


[C.Redfield]


Come in, Kirk.

(カーク、こちらクリス)

The locals were hostile and we had to use force.

(民間人に襲われ、やむを得ず発砲した)

We don't have any contingency plans for this situation, do we, Kirk?

(今回の作戦でこのような戦闘は、 想定されていなかったと思うが?)

[K.Mathison]


Roger on the locals. But you orders still stand.

(たしかにその通りだ。だが命令に変更はない)

[S.Alomar]


What does that mean? Was HQ expecting this?

(どういう事?本部はこの事態を予想していた?)



ブラボーチームとヘリコプターパイロットであるカーク・マシソンの間で交わされた通信のログだが、 これはどういうことだ?
伝わっているはずのキジュジュ自治区でのバイオテロの可能性が、 全く伝わってない。
私は確かに情報の伝達をM,Suzukiに依頼したし、 それを彼女も請け負ってくれた。
これは、確認の必要がありそうだ。
Ad blocker interference detected!
Wikia is a free-to-use site that makes money from advertising. We have a modified experience for viewers using ad blockers

Wikia is not accessible if you've made further modifications. Remove the custom ad blocker rule(s) and the page will load as expected.