| | |
| --- | --- |
| | This article needs more links to other articles to help integrate it into the wiki. (May 2018) |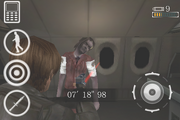 Players assume the role of Leon S. Kennedy, and although Claire appears in the game, she is not playable. The game follows the over-the-shoulder Third Person camera style of Resident Evil 4, along with quick action segments similar to the previously mentioned. There are many similarities to Resident Evil 4 along the way such as its use of a gun merchant; the breaking of items to obtain treasure and items, and the ability to jump through/over items such as windows and ledges.
Reloading is performed by tilting back the iOS device, while shaking is used to "shake off" Zombie attacks.
Certain cutscenes in the game are Quick-Timing Events (QTEs), and the player must tap certain parts of the screen to survive. These include events such as running from explosions.