As Resident Evil 2 was wholly-developed by Tiger Electronics' in-house studio, Tiger was also responsible for the advertisement campaign, which was also used to advertise the console.
Trailer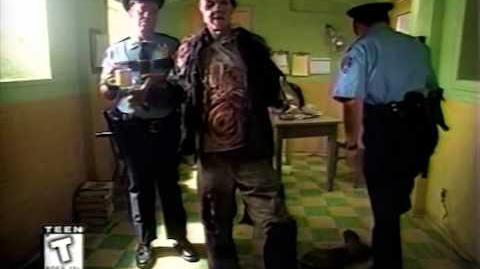 Tiger Electronics produced a live-action 30 second trailer to advertise their Resident Evil 2 remake. The plot has a continuingly-decomposing Zombie reporting an assault to the police, identifying the Game.com console as the assailant. The ad ends with an announcer declaring the Game.com to be "the only portable cartridge that plays Resident Evil 2".
Contest
In late-1998, Tiger launched the "Game.com Pocket Pro Challenge". Contestants would play Resident Evil 2 on the handheld console and upload their highest scores online using the Tiger Web Link. The player with the highest score would win a $10,000 U.S. savings bond. The contest ended January 15th, 1999.[1]
Sources
References
↑

Expert Gamer magazine (November 1998), Game.com Pocket Pro Challenge advertisement (p.13).
---
ATTENTION! This article is considered to be a stub page. You can help the Resident Evil Wiki by expanding it.
---