Development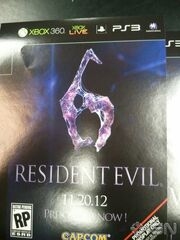 An image of the apparent logo for Resident Evil 6 was first leaked at the San Diego Comic-Con on July 22, 2011 accompanied by the date; September 15, 2011, fueling speculation that the game will be formally announced at the Tokyo Game Show on that date. Despite the convincing rumors, there was no official sight of Resident Evil 6 at the 2011 Tokyo Game Show. The first public trailer was released on January 29, 2012.
In response to the positive reaction to the trailer, according to Hiroyuki Kobayashi, the development staff were encouraged to speed up their work on the game to such an extent that it would be expected to hit stores earlier; its expected release date was brought a month and a half earlier as a result.[1]
In Chinese actress Wendy Monk's VC it is said that she voices a woman of a tribe that turns into a zombie during some part of Resident Evil 6.
Also, according to his curriculum, it appears that Joe Cappalletti will be voicing a character.
On January 9, 2012, Gamestop started placing posters of the game in their store, which then people took pictures of. The release date was reported to be 11.20.12, but the Captivate trailer announced the release date to have been advanced to 10.02.12.
The game is one of Capcom's largest-development games, with some 600 people involved in production.[2]
Zombies will be the common enemies in game, however they were not infected with the t-Virus.
Producers Eiichiou and Yoshiaki said that they traveled to China to recreate a more realistic feeling of a Chinese city for Lanshiang. Also they estated that "someone" is behind the outbreaks.
Demo
Soon after the game's announcement, Capcom announced that there would be a demo for Resident Evil 6, which can be downloaded with codes when purchasing the Xbox port of Dragon's Dogma, which was released in May, with the beta starting on July 3.[3] A demo for PlayStation 3 owners of Dragon's Dogma came out on September 4, 2012.
Capcom announced that a fully public demo will be available on September 18 for Xbox Live Gold members and the PlayStation Network. The demo will be available to Xbox Live Silver members on September 25. Unlike the Dragon's Dogma demo, which is taken from the demo shown at E3 2012, the public demo will be the one that was presented at San Diego Comic-Con.
Sources
↑ Scammell, David (January 31, 2012). Xbox 360 Dragon's Dogma includes access to Resident Evil 6 demo.