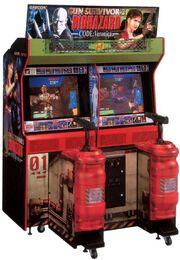 The game Biohazard Fire Zone was announced by Capcom in February 2001 as part of a deal with NAMCO in developing an Arcade game tie-in to the Resident Evil series. Back in 1998, Capcom had toyed with the notion of developing an arcade game after the proper-establishment of the franchise; this was either the precursor to Fire Zone or an unrelated project "deep in development" for the SEGA NAOMI that was merged with the then-Dreamcast-exclusive Resident Evil CODE:Veronica (the NAOMI and Dreamcast were designed with the same hardware components).[1]
Still in beta-testing, it was scheduled to appear at the AOU Amusement Expo later in the month. From available footage, it was noticeable at the time that there was no voice acting in the game's cutscenes; instead, all conversations between Steve Burnside and Claire Redfield were subtitled. Capcom had already confirmed that they had no plans on releasing the Arcade machine into the North American market.[2]
Just two months later, the game was officially renamed ド ガンサバイバー 2 バイオハザード コード: ベロニカ (Gan Sabaibā 2 Baiohazādo Kōdo: Beronika, GUN SURVIVOR 2 BIOHAZARD CODE: Veronica?) (Resident Evil Survivor 2 CODE:Veronica outside of Japan).[3] This move was to make the fact that it was an adaptation of the recently released Resident Evil CODE:Veronica more clear. It also solidified itself as a sequel to Biohazard Survivor, a series ofshoot released the year before. The two projects were not related, however.
Some time after its June 2001 release, a PlayStation 2 port of the game was made for both Japanese and European markets. However, the game was never officially shipped to the United States.
↑ Cite error: Invalid <ref> tag; no text was provided for refs named IGN_1998-09-18
↑ Cite error: Invalid <ref> tag; no text was provided for refs named Gspot_2001-02-06
↑ Cite error: Invalid <ref> tag; no text was provided for refs named Gspot_2001-04-19