"This large size military shotgun can be handled with one area if used with a stock option."

The Shotgun or S.P.A.S. 12 is a weapon which is featured in Resident Evil Survivor.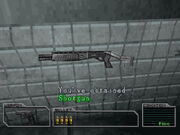 The Shotgun can be found in the Bathroom of the Paradise prison.
A solid weapon with significant firepower, decent fire rate, good capacity, and rather abundant ammunition per run through.
The go to weapon against stronger enemies in the game such as MR. X, Hunters, and Lickers.
Ad blocker interference detected!
Wikia is a free-to-use site that makes money from advertising. We have a modified experience for viewers using ad blockers

Wikia is not accessible if you've made further modifications. Remove the custom ad blocker rule(s) and the page will load as expected.