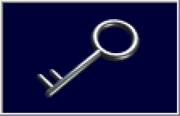 The
Small Key
(also known as the
Old Key
) is a recurring item in the Resident Evil series, appearing in
Resident Evil
and
Resident Evil 2
. Unlike other keys in the franchise, multiple ones can be obtained by the player and stacked in the
Inventory
like ammuntion.
Overview
The keys function as a substitute for the
Lockpick
item used only by
Jill Valentine
and
Claire Redfield
. The male protagonists,
Chris Redfield
and
Leon Kennedy
(which are automatically given the
Lighter
instead) have to collect several of these keys to unlock doors and desks.
The primary function of these items is to obtain hidden items and create shortcuts. They are only found in the first area of the game; the Mansion of RE1 and the Police Station of RE2.
Items
Resident Evil/REmake:
Resident Evil 2: