Ad blocker interference detected!
Wikia is a free-to-use site that makes money from advertising. We have a modified experience for viewers using ad blockers

Wikia is not accessible if you've made further modifications. Remove the custom ad blocker rule(s) and the page will load as expected.

Spencer's notebook is a file that can be found in Resident Evil 5. It is essentially two files sandwiched together; the first part is a journal entry by Oswell E. Spencer, while the second is a list composed by Albert Wesker, comprising of Umbrella executives to be killed.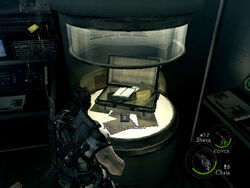 The file can be found inside a small briefcase on the Bridge (Deck), during Chapter 6-2.
Transcript
Edit
I just received word that Raccoon City has been wiped out. The Americans finally took action against us. I hope the irony of using the very military machine that was supposed to protect them from foreign attackers to kill their own people is not lost on them.

While the danger posed by the threat of the T-Virus spreading was very real, I don't think Americans will easily forgive their government for the deaths of over 100,000 of their own people.

If the truth of this matter is ever brought to light, support for the current administration will plummet. I don't think he wants that.

Even a child can see that they will come after Umbrella with everything they have. To hide their own foolish mistakes, they will blame Umbrella for Raccoon City's annihilation.

It would seem Umbrella will share Raccoon City's fate, but perhaps it will be to a lesser degree.

Umbrella was nothing but a tool for the research of the Progenitor virus. Even without that tool, the research still survives.

Only Umbrella's lowly employees will be hurt by its dissolution.

If the secret research involving the Progenitor virus is protected, then I can always rebuild anew. I've already made preparations for such a plan.

The research facility in Africa remains a secret, and it is there that the Progenitor virus is produced, something that we didn't achieve until the late 80s.

Only a handful of people in the company are even aware of the African facility's existence thanks to our strict regulation of the flow of information. Only a minimum amount of personnel were ever transferred from Africa to other locations, and they were always closely monitored.

Director Bailey has been confined to the African facility for almost 30 years, and even that has all been for this day.

All that remains is to close that facility and everything will go according to my plan.

Once that facility is gone, all its connections to Umbrella will disappear with it. Then I will have to deal with anyone who has a Level 10 security clearance as they are the only ones who know of the African facility's existence. Everyone else will be summarily disposed of.

My secrets will be protected. When one buries a treasure, one should not leave behind a map.

(A printout is stuck inside the notebook.)

Personnel with Access to Company Secrets

Level 10

Ozwell S. - Deceased

Henning P. - Imprisoned

Masaki T. - Deceased

Jenny K. - Whereabouts unknown

Carlos M. - Found -> information obtained


-> eliminated



Level 9

Brandon B. - Deceased

Frank E. - Deceased

Isabella C. - Deceased

Greg A. - Deceased

Lee D. - Deceased

Michael K. - Deceased

Ethan W. - Deceased
たった今、ラクーンシティが消滅したとの報告を受けた。
ついにアメリカが動いたか。
外敵からの戦禍をその身体に刻んだことのない国が、自らの手で肉を裂くことになるとは 、なんたる皮肉か。
だが、いかにt-ウィルスの脅威が現実的なものだったとは言え、10万人以上の切り捨てをあの国の民衆が許すはずはない。

事実が白日の下にさらされれば、現政権維持は不可能だろう。
それを、あの男が望んでいるとは思えない。
だとすれば、その矛先がアンブレラに向くことは想像に難くない。
政府の愚行は隠蔽され、アンブレラがラクーンシティ消滅の責任を一身に受けることとなるだろう。

アンブレラもまた、ラクーンシティと運命を共にする。
だが、それがいかほどのものか。
アンブレラは、始祖ウィルスの研究のために作られた"器"に過ぎない。
"器"が砕けたとしても、中身が無事であればなんの問題もない。
困るのは"器"にしがみつくしかない無能な社員どもだけだ。
始祖ウィルスの秘密さえ守られれば、いつでも再興できる。
その為の準備は、抜かりなく行ってきた。

80年代末、それまで不可能だった始祖ウィルスの培養が可能になったが、その供給元をアフリカ研究所に限定し、厳密な管理を行ってきたのもそのためだ。
アフリカ研究所の所在は、社内でも一部の人間にしか知られないように厳しい情報統制を行ってきた。
人員の異動も最小限に抑え、アフリカ研究所から異動をする者には、その後厳しい監視をつけた。

所長のベイリーなどは30年近くあの研究所に幽閉同然の身で勤務することになったが、それもこの日のためだったと言ってよい。
後は、ただアフリカ研究所の閉鎖を命じればよい。
そうすれば、全て手はず通りに物事は進む。

アフリカ研究所の存在は、アンブレラの全ての資料上から消え去る。
残される資料はレベル10の情報にアクセスできる上級幹部の記憶だけに限られ、それ以外の者は研究所の存在と同様の運命をたどる。
全ては完璧な機密保護のためだ。

宝の在り処を知る者は、少なければ少ないほどいい。

(手紙にプリントアウトされた紙が挟まれている)

「機密情報アクセス権リスト」

◯レベル10
 オズウェル・S(死亡)
 ヘニング・P(投獄中)
 マサキ・T(死亡)
 ジェニー・K(所在不明)
 カルロス・M(所在確認→情報収集後、殺害)

○レベル9
 ブランドン・B(死亡)
 フランク・E(死亡)
 イザベラ・C(死亡)
 グレッグ・A(死亡)
 リー・D(死亡)
 マイケル・K(死亡)
 イーサン・W(死亡)