Extracanonical subject
(Unique game aspects not part of story canon)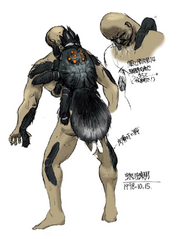 Spider man (蜘蛛男, Komoo?) is an enemy design that was ultimately rejected during the development of the Nintendo 64 Resident Evil Zero title. It was presented in a 2015 "Developer Diary" video during the production of the GameCube game's 2016 re-release.[1]
Ad blocker interference detected!
Wikia is a free-to-use site that makes money from advertising. We have a modified experience for viewers using ad blockers

Wikia is not accessible if you've made further modifications. Remove the custom ad blocker rule(s) and the page will load as expected.