Steam Trading Cards are virtual cards earned by playing games on Steam. Sets of cards can be turned into game badges and tradable Steam community items.[1]
A user may randomly get a duplicate card or buy more than one of the same card, the cards and items can also be sold on the community market or traded between players. They also be broken into games to create booster packs which includes a set of random cards from a certain game.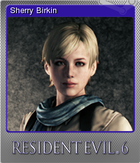 There are foil variations of the trading cards which are rare and usually expensive on the community market, these are used to craft the foil badge which can be shown on a user's profile along with the standard badge.
[2]
Each user is eligible for a booster pack which is a set of 3 trading cards that may include both basic and foil cards. booster packs are given randomly to random users as more badges are crafted by members of the community. It is best to remain logged in for at least every week to maintain eligibility.[2]
Users may also get emoticons, backgrounds and other items by crafting game badges.[2]
Badges, screenshots and other items can also be showcased on a user's profile once they reached level 10 on Steam (which can increased by buying games, getting achievements, and crafting badges to gain XP).[2]
Resident Evil Steam Trading Cards
Edit
---
ATTENTION! This article is considered to be a stub page. You can help the Resident Evil Wiki by expanding it.
---