Story 6: Siege Campaign is a stage in Resident Evil 4: Mobile Edition's Story Mode. It is based on the ending to Chapter 2-2
"The villagers start to encircle the small house Leon is in."
— Official description
Walkthrough
Edit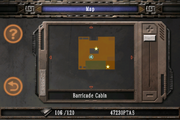 The level is a much simplified version of the console's cabin fight. Leon will start at the bottom level of the cabin and wait for the Ganados to enter; note that the player cannot go outside to pick up dropped items. Eventually Luis will tell Leon to move upstairs as more attack. After a few more are killed, the level will end.
Ad blocker interference detected!
Wikia is a free-to-use site that makes money from advertising. We have a modified experience for viewers using ad blockers

Wikia is not accessible if you've made further modifications. Remove the custom ad blocker rule(s) and the page will load as expected.