"Defend your neighborhood from undead invaders! Enter a location and begin your fight against Umbrella."
— Game tagline.
Street Invasion is a browser-based game developed by Sony to advertise Resident Evil: Retribution.
Gameplay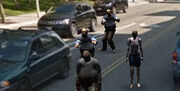 Street Invasion is a First Person Shooter which uses Google Maps to recreate actual roads. The purpose of the game is for the user to simulate defending their home from an endless wave of zombies approaching their machine gun turret and killing them.
Production
As with Undead Unleashed, a disclaimer at the bottom reads "This is a Sony Pictures promotional game for Resident Evil: Retribution, not a Capcom game."
External links
Ad blocker interference detected!
Wikia is a free-to-use site that makes money from advertising. We have a modified experience for viewers using ad blockers

Wikia is not accessible if you've made further modifications. Remove the custom ad blocker rule(s) and the page will load as expected.