"

It seems to be
a system disk
used to release
the treatment room
lock.

"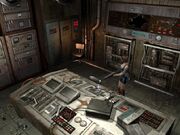 System Disk can be found by
Jill Valentine
in the
Treatment control room
. This item is necessary for entering the
Treatment room
.
Checking the door of the Treatment room, Jill can read: "The door is solidly locked.". The panel next to the door reads: "Please insert a System Disk to unlock."
It is noticeable, that after using the disk near the room panel, Jill will enter the Treatment Room on the cutscene. After using the disk, this item will disappear.
Ad blocker interference detected!
Wikia is a free-to-use site that makes money from advertising. We have a modified experience for viewers using ad blockers

Wikia is not accessible if you've made further modifications. Remove the custom ad blocker rule(s) and the page will load as expected.