The T-103 was a series of Tyrant-type bio-weapons produced by the Umbrella Corporation. The T-103 was the culmination of Umbrella USA and Umbrella Europe's competition to create a powerful, human-based B.O.W. capable of following orders. Until November 1998, the T-103s were mass-produced from the Tyrant Plant on Sheena Island.
Model history
Edit
The T-103 was an improvement over human bio-weapon development, which was spearheaded by the Arklay Laboratory and their T-002 prototype. The T-103 was largely untested in early 1998, and had already spawned several derivatives by July 1998, when the T-002 was destroyed by S.T.A.R.S. Alpha team members Chris Redfield and Jill Valentine. The data from this event was used to further improve the model.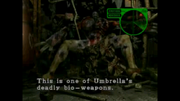 T-103s were sent out on missions during the Raccoon City Destruction Incident. One individual was dispatched to retrieve remaining G-virus samples. A group of five were transported by the same helicopter to stop a Delta Force incursion into an Umbrella facility.
Model lineage
Edit
The T-103 model proved to Umbrella that the Tyrant class of B.O.W. was commercially viable, in that they could be mass-produced, they were compliant with programming, and they were lethally effective at their tasks. As a result, not only were multiple batches of T-103 Tyrants produced, data from the T-103 was eventually used to enhance future forms of Tyrant. At least four models of Tyrant exist that can be directly connected to the T-103:
Ad blocker interference detected!
Wikia is a free-to-use site that makes money from advertising. We have a modified experience for viewers using ad blockers

Wikia is not accessible if you've made further modifications. Remove the custom ad blocker rule(s) and the page will load as expected.