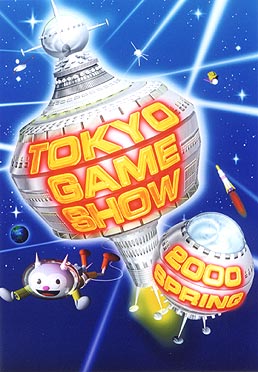 The 2000 Tokyo Game Show (TGS 2000 for short) was a biannual game show held in Japan in Spring and Autumn 2000. The Spring event took place from March 31-April 2.
A playable demo of Resident Evil 0 appeared at the Spring TGS event, being used on eight separate Nintendo 64s in two kiosks. The demo, said to represent the game when it reached 20% completion, had people walk through the Ecliptic Express as S.T.A.R.S. officer Rebecca Chambers. She would meet a dying Edward Dewey and be introduced to Billy Coen.[1]
↑ TGS: Biohazard 0 Impressions (30 March 2000). Retrieved on 2016-01-01.
Resident Evil attractions
Japanese events

BIOHAZARD Nightmare

(Osaka, 1998-1999) ·

BIOHAZARD MIDNIGHT PARTY

(Tokyo, 1998) ·

Bioroid: Year Zero

(2000) ·

BIOHAZARD MUSEUM

(Kitakyūshū, 2001) ·

BIOHAZARD Nightmare

(Saitama, 2001) ·

Shock Labyrinth EX. × biohazard

(2007-2008) ·

Biohazard Cafe & Grill S.T.A.R.S.

(Tokyo, 2012-2013) ·

BIOHAZARD FESTIVAL

(Tokyo, 2013) ·

BIOHAZARD THE REAL

(Oksaka, 2013) ·

‎BIOHAZARD X Kawaba SURVIVAL GAME FIELD

(Gunma, 2014) ·

BIOHAZARD THE REAL 2

(Osaka, 2014) ·

BIOHAZARD THE ESCAPE

(2015) ·

BIOHAZARD THE REAL 3

(Osaka, 2015) ·

BIOHAZARD THE STAGE

(Tokyo, 2015) ·

SURVIVE of BIOHAZARD

(Sagamihara, 2016) ·

BIOHAZARD THE ESCAPE 2

(2016) ·

MUSICAL BIOHAZARD

(2016) ·

BIOHAZARD ZOMBIE RUSH

(2017)

American events
European events
Game shows