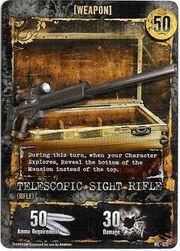 The Telescopic Sight Rifle is a weapon card in the Resident Evil DBG. It is the successor of the Bolt-Action Rifle but unlike it does not have a "special weapon" in its deck of the Resource Area. The TSR has a rather interesting effect; when a character Explores they can reveal the bottom card of the Mansion Area instead of the top. This effect can easily be exploited if used with Ada Wong or Jim Chapman, who both have effects allowing them to send Infected to the bottom of the deck without fighting them. The TSR has a Gold cost of 50, an ammo requirement of 50, and deals 30 Damage.
Ad blocker interference detected!
Wikia is a free-to-use site that makes money from advertising. We have a modified experience for viewers using ad blockers

Wikia is not accessible if you've made further modifications. Remove the custom ad blocker rule(s) and the page will load as expected.