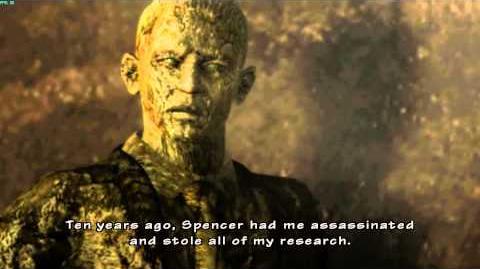 The Train Derailment 3 scene is the cutscene that plays in the last part of the "Train Derailment" Act of Resident Evil: The Umbrella Chronicles.
Transcript
BILLY
That's the guy from the picture.

REBECCA
Marcus!? But you're dead...

MARCUS
Ten years ago, Spencer had me assassinated and stole all of my research.
However, something wondrous happened.
The T-Virus fused with the leeches and brought me back from the darkness of death.
Now, I will have my revenge on Umbrella, and the world will burn in an inferno of hate!
ビリー
こいつは、肖像画の

レベッカ
⋯マーカス所長!⋯死んだはずでは

マーカス
10年前⋯ 私はスペンサーに殺され、研究成果を横取りされた
だが⋯ 奇跡が起きた
ヒルの組織と融合したt-ウィルスが、私を地獄から蘇らせたのだ
いまこそアンブレラと⋯ この世界に復讐する!
Ad blocker interference detected!
Wikia is a free-to-use site that makes money from advertising. We have a modified experience for viewers using ad blockers

Wikia is not accessible if you've made further modifications. Remove the custom ad blocker rule(s) and the page will load as expected.