The Director's office is an area of the training school.
Description
Edit
| | |
| --- | --- |
| | This section is empty. You can help out the Resident Evil Wiki by adding to it. |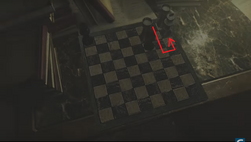 In order to solve the puzzle, the player must push the giant white king piece to the direction of the door until being able to push it to the right, and then, push it to the opposite direction to the door again until it touches the white rook just like in the chessboard over the table. Doing this will make the chessboard move, revealing the Book of Evil and the file Marcus' Diary 1. Examine the Book of Evil to reveal the Black Wing and combine it with the Black Statue to make the Statue of Evil.
| | |
| --- | --- |
| | This section is empty. You can help out the Resident Evil Wiki by adding to it. |
Bibliography
Edit