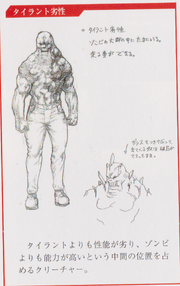 The Recessive Tyrant (タイラント劣性, Tairanto ressei?) was a creature intended to appear in Resident Evil 2, but was either rejected on the "cutting room floor" or deleted when the original version was re-built. The creature appeared in the Resident Evil Archives, referred to in the English version as "Tyrant Inferior".[1]
The creature is a Zombie which has undergone a mutation. According to a note written on the above concept art,[excerpt 1] the mutation is not unique and statistically present in large hordes.
Bibliography
Edit
excerpts
↑

ゾンビの大群の中にたまにいる。
references
↑ Owen, Sumner, Shotten (eds.), Archives, p.243.