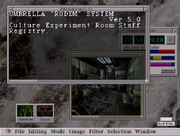 The Umbrella Rodem System is an
Umbrella
computer system used in the
Raccoon City Underground Laboratory
. The system can be accessed in both Scenarios of Resident Evil 2 by a computer in the
B5F computer room
.
By using the username "Guest" and registering their fingerprint (in both the A and B scenario), players will be able to gain access to the B4F culture room.
Note: In each scenario, players must also register each character's fingerpring by the scanner at the front door of the Culture Room.
Players must defeat a Giant Moth, as well as destroy larvae on the computer's keyboard in order to access the system.
Ad blocker interference detected!
Wikia is a free-to-use site that makes money from advertising. We have a modified experience for viewers using ad blockers

Wikia is not accessible if you've made further modifications. Remove the custom ad blocker rule(s) and the page will load as expected.