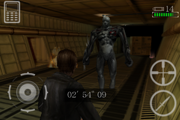 This Tyrant appears in Resident Evil: Degeneration. This Tyrant is encountered in the Cargo Hold of the plane Leon has to stop from taking off. It heavily resembles Tyrant (T-103 Mass Produced Type) in its mutated form.
Additional notes
Edit
The fight with this Tyrant mimics the fight in Resident Evil CODE: Veronica somewhat. Both fights take place on a plane's cargo hold. The only differences are that Leon has to kill this Tyrant without the use of a crate and the plane is on the ground.
Ad blocker interference detected!
Wikia is a free-to-use site that makes money from advertising. We have a modified experience for viewers using ad blockers

Wikia is not accessible if you've made further modifications. Remove the custom ad blocker rule(s) and the page will load as expected.