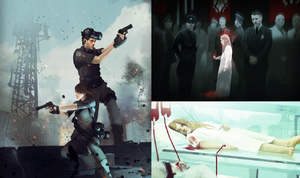 This untitled Resident Evil game was a video game pitch by Creative Assembly which was ultimately rejected before work began on Alien: Isolation, either due to Capcom rejecting the proposal or Creative favouring the eventual winner. Creative Assembly pitched various ideas for licensed video games such as a Django Unchained adaptation, a game based on Marvel's S.H.I.E.L.D. organization, and a Resident Evil sequel title.
Details
The pitched game is known to have involving BSAA agent Jill Valentine. Creative Assembly concept artist Brad Wright drew at least three pictures to be sent, showing a white-dressed girl undergoing some sort of blood transfusion. In mid-2015 Wright released the pictures onto the Internet in order to clear up his harddrive.[1]
Sources
↑ Concept Art to The Creative Assembly's Cancelled Resident Evil 7, Django Unchained, and a Marvel Game Surface. Twinfinite.net (August 19, 2015). Retrieved on 2015-09-13.
Ad blocker interference detected!
Wikia is a free-to-use site that makes money from advertising. We have a modified experience for viewers using ad blockers

Wikia is not accessible if you've made further modifications. Remove the custom ad blocker rule(s) and the page will load as expected.