The residential area alley住宅街路地 is an area of Uptown Raccoon City. This area is featured in Resident Evil 3: Nemesis.
Description
A barricade has blocked off the passage in front and the gate towards the right is wrapped around with rope. A wooden crate is placed at the centre of the alley.
Guide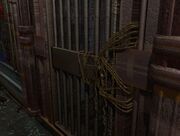 Upon entry for the first time, zombies will drop the barricade if Jill approach close enough. This area has a closed door toward the right, which must be opened to continue. "It's been bound tight with rope and won't open. The rope seems to be soaked with oil" - this message appears while examining the door. Jill needs Lighter to burn that rope. Upon returning here at night, zombies will burst out of the windows.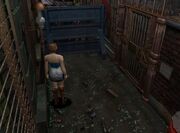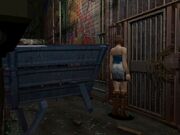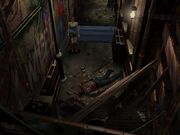 This alley is also venture during the Mercenaries - Operation: Mad Jackal, where three zombie dogs are present as enemies in this area.
Examines
| Location | Localization | Original Script |
| --- | --- | --- |
| Checking the door toward the Hydrant Alley (Before using the Lighter) | It's been bound tight with rope and won't open. The rope seems to be soaked with oil. | |
| Checking the dead corpse | His flesh was apparently bitten off or devoured. | |
Gallery
Bibliography
Sources