The Y-shaped alley (Y字路地?) is an area of Uptown of Raccoon City featured in Resident Evil 3: Nemesis.
Description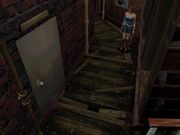 The
Basement area
has two entrances from
Store area of the Fisson Street
. In this place, there are two corridors with stairs, located between buildings on the
Jack Street
.
Guide
Main game
There is a closed basement in the center of corridor, but if Jill goes for examination of it (or wandering around that door for a certain period of time), Brad Vickers runs out, being chased by a group of zombies.
The basement's purpose was keeping the cases of drinking water. Jill finds the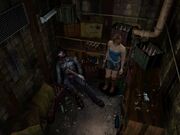 corpse of an unknown police officer in it, and his
Benelli M3S
. Also, there's a necessary item -
Lighter Oil
in the basement too.
The Mercenaries - Operation: Mad Jackal
This room will flooded with multiples zombies should player attempt to went through this area instead of using the Jack Street on the minigame.
Examines
| Location | Localization | Original Script |
| --- | --- | --- |
| Poster on the wall | "Big E concert: September 30th. Start at 7.30 PM." | |
| Dead cop on the basement | He is lucky he died before his guts were ripped out. | |
| Cases on the shelf | Cases of drinking water. | |
Gallery
Bibliography
Sources