Ad blocker interference detected!
Wikia is a free-to-use site that makes money from advertising. We have a modified experience for viewers using ad blockers

Wikia is not accessible if you've made further modifications. Remove the custom ad blocker rule(s) and the page will load as expected.
Anderson universe
(Covers information from Anderson's universe)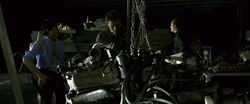 The Urban Pacification Vehicle (or UPV) is an armored vehicle used during the Global T-Virus pandemic by the United States Army to suppress prison riots within the Citadel Correctional Facility in Los Angeles.
Background
A large heavily-reinforced truck that was kept in the garage of the Citadel Correctional Facility for transporting extremely dangerous criminals and for riot control. After being locked in a cell as a joke by released prisoners, Chris Redfield was the only one who knew of the truck but wouldn't tell Luther West it was there unless he released him, which he didn't.
When Janus Prospero and Claire Redfield arrive at the prison, Luther agrees to let Chris out and Angel Ortiz, Kim Yong and Bennett weld the garage open while Chris, Janus and Crystal Waters head to the armory and Luther and Claire try to reinforce the barricades. Once they discover the vehicle, Angel realizes that the large engine is out. Angel estimates that it would take at least a week to install the engine. Angered and annoyed, Bennett murders Angel.
Further notes
It's highly unlikely that the engine would not have been installed already as the corrections officers would've wanted it prepared and ready. Also, with the T-virus sweeping the cities and turning citizens into zombies, the truck would have undoubtedly been used.
The UPV is never referred to by commonly accepted name (Armoured personnel carrier) in the film but, instead referred to as an Urban Pacification Vehicle (UPV).
Gallery