Im selling a sealed, new copy of Resident Evil 3 Nemesis for Gamecube, and it is NTSC-UC, so it plays in United States, Mexico, and Canadian Consoles only.
Selling for $30, free shipping, and will ship to US residents only, or international for extra price. Will sell through ebay and use PAYPAL ONLY. Good collectors item if you need a sealed copy. I never opened it, as i wanted to collect it, but i own another copy and dont realy need the sealed gamecube copy. If interested contact me directly on my Wiki wall, as i wont be able to be notified directly at comments. Thanks!
Remember, if interested contact me. Just know it is NTSC-UC and NOT PAL or NTSC-J. Thanks!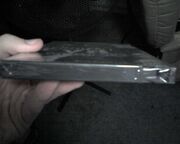 Ad blocker interference detected!
Wikia is a free-to-use site that makes money from advertising. We have a modified experience for viewers using ad blockers

Wikia is not accessible if you've made further modifications. Remove the custom ad blocker rule(s) and the page will load as expected.