Chris/Piers FMV
This takes place in China, but now there is a new enemy.......an invisible snake. I believe this was part of the horror theme that was said to be put in Chris' campaign and I have to say, I wasn't expecting this. Of course I was expecting some sort of large snake enemy, but not an invisible large snake enemy.
On another note, Chris must be really close to his men, or he must've had a flashback of either Jill or Sheva(lol). Piers kinda reminds me of Jill, because she's always level headed(like Piers), from what I've seen.
Leon/Helena FMV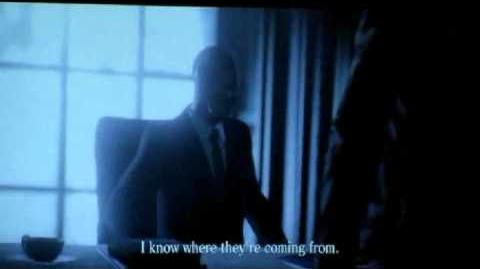 So Leon and Helena are in the sewers. I guess since there were too many zombies that they had to take an alternate route to the cathedral. It even features more about what Adam was saying to Leon in the captivate trailer. It also appears that Leon was attempting to stop the President from revealing the truth behind the Raccoon City incident (for his own safety I believe). Apparently he wanted the world to band together to put an end to bioterrorism.

Anyways here are the 2 FMV's, no Jake/Sherry FMV (sad times, I know), that I know of for now but today is the last day of Comic-con so who knows?
Ad blocker interference detected!
Wikia is a free-to-use site that makes money from advertising. We have a modified experience for viewers using ad blockers

Wikia is not accessible if you've made further modifications. Remove the custom ad blocker rule(s) and the page will load as expected.